Poker Head-Up Display (HUD) is software online poker players use to facilitate the game by providing real-time data regarding the hands and opponents of the current game. With this software, you can read and react to each move your opponent makes with more efficiency while also improving your skills through automated data mining tools.
Pokertracker 4, Hold 'em Manager, and PokerCopilot are the best HUDs for PokerStars that you can use to obtain an edge over your competitors. While you may be more comfortable playing on your computer without a HUD, if you want to up your game, you'll need to employ professional tools of the trade.
Finding the best Poker HUD for your needs can be challenging. Many HUDs are available on the interweb, some of which can be unreliable. Given that the most popular online poker room for HUD software is PokerStars (because of its wide range of tournaments), this article will closely examine the top three HUDs for this platform.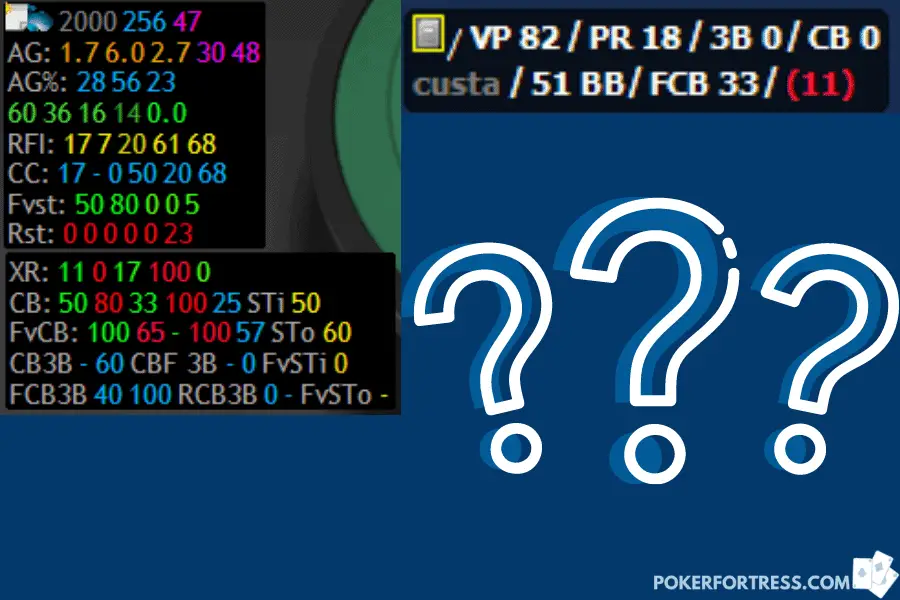 There are only 2 really popular HUDs for Poker Stars (PT4 and HM3 which are owned by the same company). Poker Copilot is another fine option but it is a bit outdated and doesn't come with as many customization options as PT4 or HM3, but it is a good option for poker beginners because they won't utilize the customizations fully anyway.
1. Pokertracker 4
If you've ever played poker, you know it's all about playing the odds. You have to make intelligent bets based on the probability of winning a hand, but that's not easy to do, especially if you're new to the game.
If you've watched professional online poker, you're probably aware of the pros of utilizing HUDs, which show all sorts of statistics about the hand and your opponents. HUDs are beneficial for tracking how much your opponent has bet in certain situations and what their tells are, as well as tracking your performance in real-time.
Since 2001, Pokertracker has been dominating its competitors by allowing users to invest in their poker game. This is accomplished through vigorous tracking and analysis, enabling users to get the edge over their fellow players while allowing things not to get too complicated.
Pokertracker 4 is poker software that is designed to help optimize your gaming experience. It's a hand history tracker, player database, and analytical platform, all built around the concept of tracking your online poker hands. 
Video: PT4 HUD that takes you only 5 minutes. Enough to beat micro and low stakes limits.
By utilizing this software, you'll be able to keep track of your opponents. Watching how they play certain hands, you can use that information to inform your choices. 
For example, if you notice that a specific opponent always bets with pocket 8s in a late position, you can adjust your play accordingly. You might raise with 7-8 from the button instead of folding as you might otherwise do. 
In addition to the small edges provided by these kinds of observations, this HUD will also include important information about players' general tendencies and overall strategy. You can quickly see if an opponent is loose or tight, passive or aggressive, and much more. 
Pokertracker 4 is one of the best HUDs because of its easy-to-use and full-scale software, making it perfect for any cash game or tournament by providing in-depth information about your opponents. 
This HUD is displayed on top of your online poker screen, allowing you to see vital information while you play without taking away valuable screen space from your opponent or the cards in play.
Its versatility and, most importantly, the customizable display makes it an indispensable tool for any online poker player. You'll be able to access many statistics and figures, such as your current total profit and loss, the value of our hand, recent playing history, and more. 
Many people think Pokertracker 4 is just for tracking hands, but you can do much more with it. You can customize it for a unique feel to suit you and use it for poker analysis, managing your bankroll, and even learning how to play better. The best part is that this HUD can be customized to show the stats you want to see while hiding those you don't care about.
Pokertracker 4 comes with a hefty list of HUD statistics. You can easily customize these to display the ones that best suit you. Here are some recommended statistics you should display:
3Bet%4Bet RatioAFCBetFold to CBetFold to 3Bet%PFRVPIPWTSD%
While being one of the best HUDs compatible with PokerStars, Pokertracker 4 is also compatible with Windows and Mac. This is precisely why it's number one on this list. No matter the resources you have, you'll always be able to utilize this tool on PokerStars to fix any shortfalls in your game and learn from fellow players. 
This HUD is recommended for experienced players who want to take their game to the next level. The vast majority of poker pros use HUDs.
PokerTracker 4 (PT4) is also the preferred HUD that I use daily. My favorite one used to be Holdem Manager 2, but then I switched to PT4 and currently don't see any need to try anything else.
Video: How to make PT4 report more useful and efficient.
2. Holdem Manager 3
As mentioned, HUDs are convenient tools that have become popular in the poker world because of their ability to quickly analyze hands. 
They provide an immediate way to access a lot of information about previous hands and statistics about your opponents, as well as tell you more about the current hand you're playing. For example, a poker HUD can give you information like:
Number of players in the handThe category or type of hand (i.e., all-in, flop, turn, etc.)How many players see the flopHow many players remain in the handThe number of raises and re-raises in a particular hand
A HUD is beneficial for beginners because it allows them to focus on what's most important – the cards themselves! 
With a HUD like Holdem Manager, you can quickly identify hands that might be strong and weak without having to worry about memorizing what cards other people may have. 
Many online poker rooms offer free HUD software programs that include most of these features. However, if you have enough money saved up and are taking poker seriously, you may want to consider buying a more advanced HUD.
Video: HM3 has a visually very appealing interface.
The HUD is beneficial for keeping track of the game. Some people use it to ensure that their strategy is correct and that they should continue playing with the same technique. Others use it to discover their opponents' weaknesses and during which hands they should fold.
Holdem Manager is a paid visual poker tool recommended for casual online poker players. It provides various features that help you to improve your game. Windows operators best utilize the Hold 'em Manager because it was not built to run on Mac OS.
It is an easy-to-use program that will help you become a better online poker player by tracking your play, providing you with essential statistics, and helping you to make better decisions at the table.
The program works by tracking your session play as it happens in real-time, gathering data on your game to provide helpful information and advice based on what it sees. 
Some of the elements that the program will monitor include: 
Your total hands playedThe number of hands per hour (and per 100 hands)How much money you are winning or losing over timeHow many blinds and antes are you paying per hour based on your average bet sizeThe number of folds you make at each level of betting
The HUD does all this automatically and then uses it to help you make better decisions at the table by providing easy real-time access to all this information. For example, if during a session you find that you're playing too many hands and folding too often, the HUD will notify you of this fact so that you can adjust your approach accordingly.
Holdem Manager 3, like most HUDs, can look cluttered with information at first. However, you can filter the information to make it more focused on what you want to see. 
Additionally, users can benefit from a unique feature called post-game analysis. Here is where you can improve your game through revisions of previous hands. Making it easier to find your leaks. 
While Holdem Manager 3 is not as in-depth as the previously discussed Pokertracker 4, it still provides over and above the basics for the casual player to utilize if they wish. 
 3. Poker Copilot
While Pokertracker 4 and Holdem Manager 3 are two giant fish in a small pond, there are some other HUDs that can be utilized by the online poker player. 
Poker Copilot is a popular tool for poker players who have used the same tools for years and are looking for a change. 
You'll be astonished at how you can improve your game with this little piece of poker software. It offers plenty of features you won't find in other programs or even the most advanced strategy guides.
Poker Copilot can be used as a standalone HUD, which means you can launch it on its own and use it as an overlay on top of any program, and you won't need to install any additional software. 
Therefore, you can set up the HUD so that as soon as you launch your online poker playing platform (PokerStars) – the HUD will appear alongside your regular playing area. 
This is incredibly convenient because you can play your hands without moving your mouse away from the game to bring up the HUD menu. You can also track how your opponents are betting while staying focused on the game at hand, letting you make better decisions in real-time.
Additionally, Poker Copilot was initially developed for Mac users. This HUD will probably have to be your go-to if you're an Apple fanatic. However, it's also available for Windows users looking for a change from other big-name HUDs.
Video: Poker HUD Poker Copilot intruduction
Poker Copilot enables users to experience easy functionality no matter their level. For beginner players, you'll be equipped with some of the most basic statistics:
For the advanced player, you'll want to utilize a lot more of Poker Copilots' capabilities and statistics, including, but not limited to:
3Bet%4Bet%Attempt to StealFold to 3Bet%Fold to 4Bet%Fold to StealFlop CbetFold to Flop CBetRaise Flop CBet
If you're unaware of some of the best HUD statistics to improve your game, many resources are available online – including this one. 
This HUD also integrates into online poker platforms like PokerStars, PartyPoker, and Full Tilt Poker. In fact, Poker Copilot has worked in conjunction with PokerStars since 2008 and is an officially approved software of the platform.
The design aesthetic is clean and modern and offers quick access to your hand history data by way of an intuitive dashboard with stats about your play. The program also includes features such as customizable color cues to help you keep track of blinds, antes, betting rounds, and several other things.
One feature that I was particularly excited to learn about when I initially heard about Poker Copilot was the leak detector. 
This tool gives statistics that can help determine if there is anything wrong with the way that you're playing. The leak detector lets you know how often and when mistakes are made – it can tell you when other players fold too much or too little, and it can let you know if your play style is too aggressive or too passive.
A wide range of scenarios can be determined by this leak detector:
Preflop aggressionPositional awarenessBlind StealingPocket PairsSuited Connectors
Poker Copilot's leak detector gives users a score to help them determine where they're going wrong, making it ideal for beginners because it enables them to discover their mistakes. Hence, they know precisely where they should improve.
Video: Poker Copilot leak detector example
That's right, leak detectors have been made with just one purpose in mind: they help you find mistakes in your game so that you can fix them. If you're new to online poker, this is one of the best tools available to help you improve your game.
Ultimately, Poker Copilot is exceptionally convenient and easy to use. It's an excellent tool for new players who might be intimidated by more in-depth programs like Hold 'em Manager or PokerTracker. Still, it has plenty of advanced options for the more experienced user.
It's not free, but it's got a free trial, so you can try it out before deciding on whether you want to buy it, and once you do, you get access to all of its features on all major online poker sites.