Music is quite often an essential part of people's lives. You listen to music at home, when running, when going out, while driving, while exercising… Most people will often find some excuse to listen to music. But you won't often see people listening to music while working, will you? Or while doing professional sports? Well, considering this, you might ask yourselves – can professional poker players listen to music during a game? Well, we're going to answer that question for you in today's article.
Poker players are allowed to listen to music during a poker game. No rule strictly prohibits this, and there is a certain number of players that do it regularly. You have to do it in a way that doesn't bother the other players and the game itself.
In today's article, we will tell you whether professional poker players are allowed to listen to music during official events, and if they are, you're going to find out what they like to listen to. We're also going to give you a good playlist that you can try for yourselves.
You can listen to music while playing, but make sure the sound doesn't bother players around you.
Can you listen to music at a real poker table?
Well, there's nothing in the rulebook that explicitly prohibits listening to music while playing poker. Of course, you'll have to do it in a way that doesn't bother other players.
This means that you can't bring a sizeable battery-powered stereo and just put it there on the table, but if you use Bluetooth headphones or some smaller cable headphones and connect them to your iPod or your phone, you won't have any problems with listening to music during a game. We have a whole article dedicated to why Poker players often wear headphones, and it is not always for listening to music.
The other players don't care about what you do as long as it doesn't affect your game. This also means that you'll have to reduce the volume so that it doesn't bother you or the other players, but that's not really an issue.
If you are looking for the best headphones for poker players that will secure noise cancelation, offer quality and high battery life, then check out our article.
Another related question is whether you can effectively play the game while listening to music?
There is really no right answer here, as it all depends on the player and his abilities. Some players can concentrate while listening to music. It might even help them balance out their game, think faster, and devise different tactical approaches, as music can act as a stimulation for the brain.
On the other hand, players who just cannot concentrate while listening to something and will always avoid listening to music while playing poker.
What kind of music do poker players listen to?
This depends on the person playing. Most people love uplifting songs or songs about the poker while playing it, while others like songs that will calm them down and give them the peace of mind they need for the game.
Most players love to listen to rock, or even heavy metal while playing, as you will see on our list below, but some people would rather listen to some classical music or anything else that will calm them down.
I usually go with a mix of rock and classical poker songs. But you can just browse around Spotify poker playlists. Here is one for your perfect poker night: Spotify Poker Night Playlist
Best poker playlist
Now that you know the main answer – you can, indeed, listen to music while playing poker – we can move forward and present you with a list of the eight best songs to listen to while playing poker.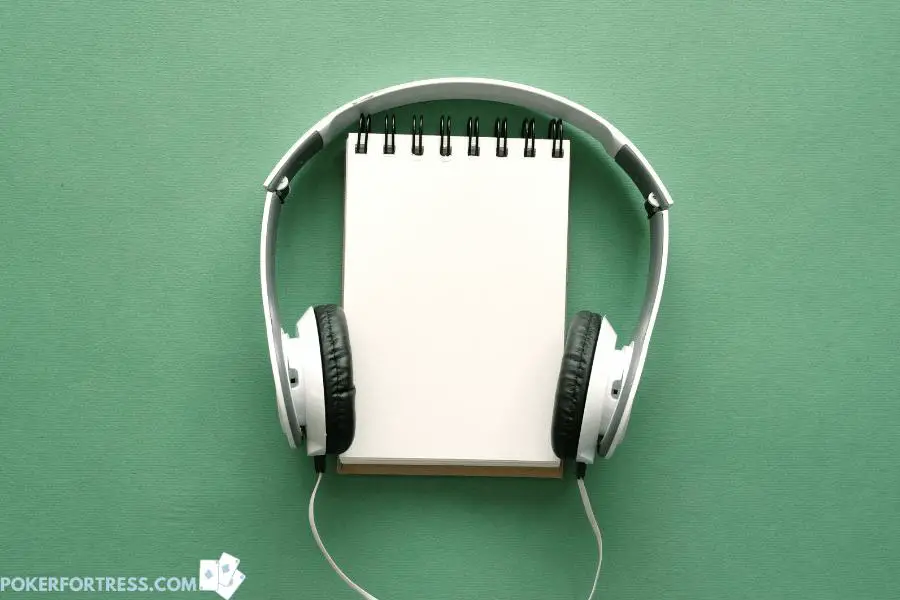 While everyone has their music taste, on the list of songs below you will surely find one or two that you might like.
They are stylistically different and are on the list for different reasons, all because we wanted to create a more diversified list for people who enjoy different musical genres. Here are the songs:
1. Kenny Rodgers – "The Gambler"
The lyrics "You've gotta know when to hold'em, know when to fold'em" have become a classic poker reference, and it is quite apparent why Rodgers' well-known song found its way on our list.
It is a song with a classical sound that reminiscences the famous poker games from the 19th century, giving you a historical aura that will, undoubtedly, fit your game perfectly. It is a very apt tune for poker as it's not hard to listen to or anything, rather having a very authentic feel that makes it a perfect song to be on your playlist.
2. American Authors – "Best Day of My Life"
This is a relatively new song – released in 2013 – by American pop-rock band American Authors. This is not a poker song per se, as it doesn't really speak about the game itself, but its upbeat tone and the optimistic vibe it emanates make it an excellent candidate for a poker-related playlist.
A lot of people say that positive thoughts attract good things in life, and this song is so full of (positive) energy that – if that saying is correct – you'll undoubtedly have a lot of success while playing poker.
3. Sting – "Shape of My Heart"
This is also not a poker song strictly speaking, but the ending song of Luc Besson's famous film Leon has a lot of card game references that are part of the complex and deep lyrics that Sting prefers.
If you want a soft sound with a beautiful melody, this song is definitely among the best you could pick, and you should definitely keep a sport for it on your playlist.
Sting is one of those unique authors and trusts us – if you don't know this song – when we say that having a Sting song on your playlist makes the playlist a lot better.
4. Motorhead – "The Ace of Spades"
For those of you that prefer a harder sound, this metal song by Motorhead is a great pick. The author, Lemmy Kilmister, was a gambling fan himself, and several Motorhead songs have referenced the rich casino culture; Kilmister even had a slot machine named after him.
As for this song, it is somewhat of an anthem among casino goers who like a harder sound so it shouldn't come as a surprise that people often include it on their playlists. So, really, if you prefer a harder sound, be sure to include this song on your list.
5. Alice Cooper – "Poison"
This glam rock classic is an excellent pick for those who want a quick tempo playlist. Although it is not related to poker or gambling, "Poison" is a highly energetic hit that will certainly boost your morale and stimulate your brain during a game.
Cooper, one of the pioneers of glam rock, is one of the best rock musicians in history, and it shouldn't come as a surprise that "Poison" became not just one of his greatest songs, but also one of the greatest rock songs in history.
6. Queen – "We Will Rock You"
Remember when Freddie Mercury managed to get the Wembley crowd to clap the beat of this song during Live Aid? Well, "We Will Rock You" is a true rock classic and one of the best songs ever recorded by Queen, undoubtedly one of the best rock bands in history.
This song is, like Cooper's, very upbeat; it will boost your morale and inspire you to play better, simultaneously stimulating your brain to work harder.
Just imagine winning a game after being inspired by Queen to adapt a winning strategy during the match! Like the song says – that would totally rock.
7. AC/DC – "Back in Black"
AC/DC is one of the best rock bands in history, and you wouldn't think of them as being a good material for playing poker. Yet, their song "Back in Black" is an excellent thing for motivating a player when he's down and initiating a remarkable comeback.
Namely, the lyrics of the song, which include the line – "Back in black, I hit the sack, I've been too long I'm glad I'm back" – are very specific and will certainly motivate you to try and turn a seemingly hopeless situation around.
This one of the principal reasons why you can benefit from listening to this song and why you should certainly have it on your playlist.
8. Rage Against the Machine – "Know Your Enemy"
Finally, we decided to include another famous band – Rage Against the Machine – as an example of an energetic, motivational song for your playlist.
Namely, Rage Against the Machine are known for their anti-establishment lyrics, and they could undoubtedly motivate you to continue fighting or prepare you for a good battle among the cards.
If you want a good and diverse playlist, this is certainly something you should consider including even if you're not that big of a fan of Rage Against the Machine.