PokerStars is one of the biggest online poker sites that suffered from the Black Friday incident or the United States v. Scheinberg. It moved out of the US since then, but it's now back in operation. So, after the hard hit, one concern that many people have regarding its renaissance is if it's still safe to play poker on PokerStars. 
PokerStars is safe, secure, and is, in fact, legally operating in the US right now! Not only do they have the infrastructure and vast pool of poker players, but using their platform to play poker protects you from another Black Friday. They have everything in place, allowing you to play instantly.
However, it doesn't mean that you can just go ahead and start using PokerStars to play online poker. There are still some things that you need to understand, and we'll cover all of them in great detail. Stick around because PokerStars may be safe, but it's definitely not for everyone!
In the last few years, the competition has become softer on PokerStars. Due to the lower rakeback many regulars have quit, but PokerStars is still the biggest online poker site.
Quick Background on Black Friday
Let's talk about what Black Friday is and why it matters to poker players, just to establish the basis for safety and security concerns.
If you're new to playing online poker, let us be the one to tell you that the action you're getting right now is only a fraction of what online poker in the US used to be. It was all because of the event that happened on April 15, 2011, which forced the most prominent poker companies to leave the US.
The whole Black Friday took five years to happen, and it started after the Unlawful Internet Gambling Enforcement Act of 2006 passed. The first casualty was PartyPoker—the biggest poker site in the US during that time. However, PokerStars and Full Tilt Poker were quick to adapt and filled the void. 
These two online sites became the biggest poker sites for years until the Department of Justice issued an indictment against Full Tilt, Absolute Poker, and PokerStars.
This indictment put an immediate stop to these companies' operations. They stopped offering real-money games, which eventually forced them out of the country. The FBI later seized their domain names and shut them down indefinitely. Millions of players lost access to their accounts and could not withdraw billions of dollars in real money.
After cutting a deal, the FBI agreed to release the domains, allowing the companies to continue their operations outside the US, as long as they pay back their customer's money.
It took some time for PokerStars to repay their customers, but at least they got paid. Full Tilt never had the money to pay back their customers, but PokerStars bought Full Tilt and eventually repaid the customers. Absolute Poker never had the chance and remained shut down. Of the three biggest poker sites affected by Black Friday, PokerStars was the only one that survived.
PokerStars After the Black Friday
PokerStars remained strong and was able to get back its domain to continue its operation. Today, PokerStars is one of the most recognizable poker companies globally, but many people wonder whether it's safe for them to play on this site.
Black Friday is a crucial part of everything that shaped online poker in the US. It has led four states—Delaware, Nevada, New Jersey, and Pennsylvania—to legalize and regulate any online gambling operations within their jurisdiction.
They allow online gambling platforms to operate as long as their headquarters are in these states.
PokerStars, given their reach and market share in online poker, was first to comply. They are operating in New Jersey under the domain PokerStars Casino NJ. New Jersey regulates all their operations, and they are paying taxes to the US government—the main reason for their indictment in 2011.
They also accept players from Pennsylvania, giving them a considerable market share for online poker sites that legally operate in the US. These are some of the reasons why PokerStars is one of the safest and best poker sites today.
YouTube: Andreas Froehli on why is everyone still playing on PokerStars.
Safety and Security of Playing on PokerStars
After Black Friday, it's normal for anyone to wonder whether PokerStars is still safe for playing poker. Nobody wants to have their bankroll be in limbo again without any guarantees of getting it back.
One of the advantages of regulated poker sites is that they abide by the laws and regulations of the state where they operate. New Jersey has the most comprehensive online gambling regulations. If they allow PokerStars to operate within their jurisdiction, it means that they're following all the safety protocols that the state has.
It's what makes PokerStars safe for anyone. In fact, if you're living in New Jersey, Pennsylvania, or any state that will also legalize and regulate online gambling, PokerStars is your safest option. There's precedence that the FBI can seize and control an online gambling operator's domain even outside the US. 
If you're playing on a different platform that operates outside of the US, there will always be a chance that the FBI will seize control of their operations and shut them down indefinitely.
On the other hand, PokerStars abide by the state's laws and regulations in its operations. It keeps them safe from any bad beats that government agencies may file for other online gambling operators.
You can be sure that your money in PokerStars is safe—even safer than any other online poker site that you can join.
If your concern is about PokerStars suffering another Black Friday incident, it won't happen again with all the regulations that they're following. If your concern is about your account's safety, the states where PokerStars operate regularly monitor its operation. It also covers you from any fraud that may happen while you're using the site. 
So as long as you are playing inside PokerStars and you're only playing with people you're allowed to play, you don't have to worry about your account's safety.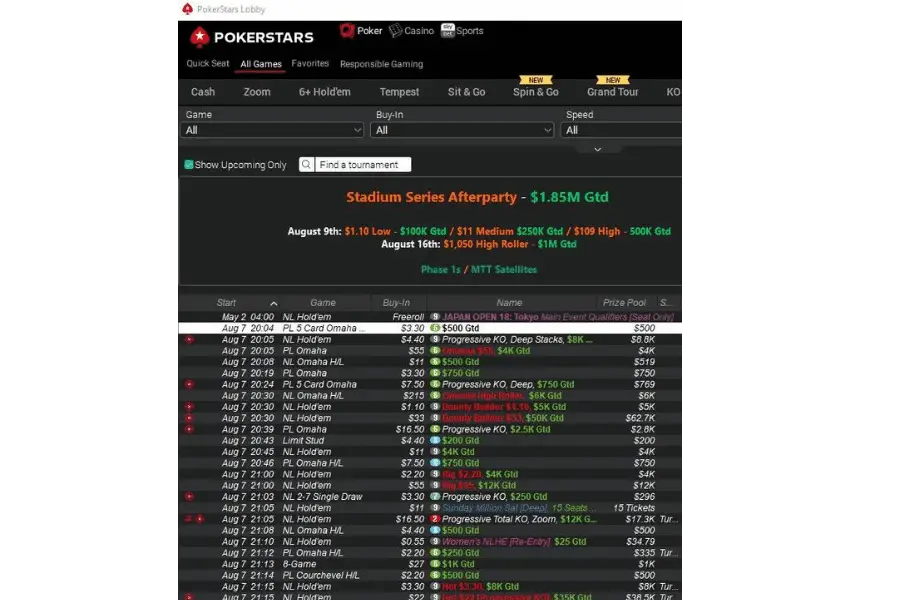 Sadly you won't see such prize pools in U.S. PokerStars. Unlike in Europe and many other countries, the traffic in the U.S. is split between specific states where PokerStars has permission to operate.
How About Players Outside New Jersey and Pennsylvania?
Unfortunately, PokerStars won't allow you to play real money games if you live outside New Jersey or Pennsylvania. They'll always keep it that way unless they gain licenses to operate in other states where online gambling is legal.
Another drawback when playing on PokerStars is that you're not allowed to play with people from different states. If you are from New Jersey and your friend is from Pennsylvania, PokerStars is the safest option for both of you. Unfortunately, the combination of the Interstate Wire Act of 1961 and the Unlawful Internet Gambling Enforcement Act of 2006 prevents you from playing together.
Some states sign into an agreement that allows online poker sites to share players from different states. As more states legalize and regulate online gambling, and as they allow their players to play against each other more freely, the easier and safer it'll be for every poker player to play online. 
Right now, players from New Jersey or Pennsylvania are the only ones who can access PokerStars, but rest assured that they are safe from other incidents that are similar to Black Friday.
Conclusion
PokerStars is one of the biggest poker sites, the highest traffic for real money players, and one of the most recognizable poker companies. However, these things didn't stop the government from going after them, which forced PokerStars out of the US. It was also an event that almost killed online poker, as millions of people failed to get their money.
However, with all the regulations and legalization in some states, PokerStars got its feet back in the US. It continues to be one of the biggest online poker sites in the country, and it's also the safest poker site that you can join.
Related Articles